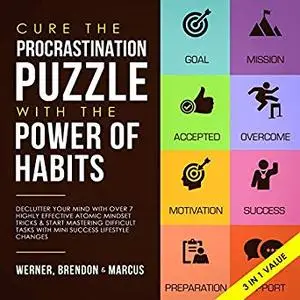 Werner Brendon Marcus, Alec Jeffery (Narrator), "Cure the Procrastination Puzzle with the Power of Habits: Declutter Your Mind with over 7 Highly Effective Atomic Mindset Tricks & Start Mastering Difficult Tasks with Mini Success Lifestyle Changes"
ASIN: B07RBN5KCK | 2019 | M4B@128 kbps | ~10:18:00 | 601 MB
Highly effective strategies to overcome procrastination.
Every human being has the same number of hours each day, no more no less. Yet, you're surrounded by people who accomplish more in one day than you have in one week. Why is that? You can't buy time nor slow it down. No matter how much time you've wasted, you still have an entire tomorrow. Don't let it go to waste because it's never too late to seek transformation in your life.
I know what it's like to get motivated and fall back into old negative patterns. To have great ideas but never muster the strength to get started so they go unrealized. The wishing for change that never occurs. The bad habits your aware of but can't break. Your days wasted away doing meaningless task that have no value so you never achieve the success you've been longing.
Inside this book you will discover:
The reason you procrastinate and how to flip the switch and dominate.
A universal rule that increases productivity and forces you forward.
A fool-proof method to break bad habits and keep them gone for good.
Millionaire time-management strategies and secrets of self-discipline.
An ancient Japanese trick to hack your mind and beat laziness right now.
How to build self-discipline (the right way) and achieve your goals.
Wish you could tap in to your inner drive and gain the competitive edge in life? Sick of letting go, giving up, or giving in when you're on the verge of success? Wouldn't it be nice to finally create real, lasting change in your life?
If you've ever tried to power through to the finish line and didn't make it, I'm talking to you. The person who starts diets and stops when you're hungry. The person who launches a business and quits before it's profitable.
Inside you will discover:
An incredible new way to ward off insatiable temptations like ant repellent.
How to force yourself to your feet and get work done even when you're super lazy.
The single fastest way to slash procrastination in half while tripling your free time fast.
The psychological scientific methods to build a growth mindset and break bad habits.
Secret keys to self-discipline success and how to create transformation overnight.
Develop an unbeatable mind and grind away at what needs to be done.
Inside this book I'll guide you to:
Dig deep and find the willpower to step up and act on your dreams
Develop the mind of a Navy SEAL that takes your mind from fragile to unbeatable
Overcome the number-one misconception that tricks you into hesitation
Build relentless habits into your daily routine to carry yourself though thousands of failures
How to bolster your performance over night with one simple mindset switch