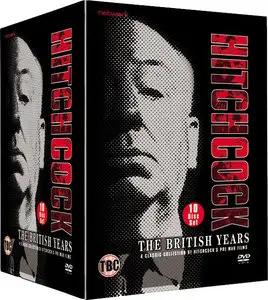 Hitchcock: The British Years (1925-1939) [2008]
1xDVD9 + 9xDVD5 | VIDEO_TS | PAL 4:3 | Covers + Booklet | 810 mins | 41,4 Gb
Score with English intertitles or English audio AC3 2.0 @ 192 Kbps | Subtitles: None
Genre: Crime, Drama, Mystery, Thriller, Classics
Celebrated for his suspense-packed thrillers, macabre plots and endings with a twist, Alfred Hitchcock, born in London's East End in 1899, is one of cinema's greatest auteurs. He directed over 60 films throughout his career and this unique box set contains ten of his most significant pre-war British films, from his rarely seen 1925 silent The Pleasure Garden through to landmarks such as Sabotage, The 39 Steps, The Lady Vanishes and Jamaica Inn. It was these films that would pave his way to success in Hollywood.