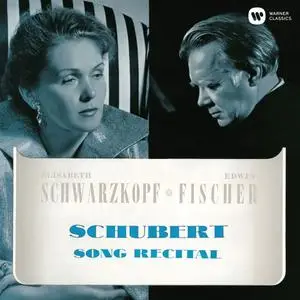 Elisabeth Schwarzkopf & Edwin Fischer - Schubert: Song Recital (2019)
FLAC tracks | 42:14 | 102 Mb
Genre: Classical / Label: Warner Classics
This compilation of 12 Lieder and Six Moments Musicaux performed by soprano Elisabeth Schwarzkopf and pianist Edwin Fischer is old-fashioned in every sense of the word. Recorded in 1950 and 1952, the sound is old-fashioned: clear but distant, heard across all the intervening decades as if through a dark glass. But, more significantly, the performances are old-fashioned. The slight but sweet quiver in Schwarzkopf's voice was typical of its time but unlike anything any contemporary soprano would attempt. In the An die Musik, she flirts with preciousness. In Im Frühling, she comes close to coyness. In Ganymed, she touches on parody.