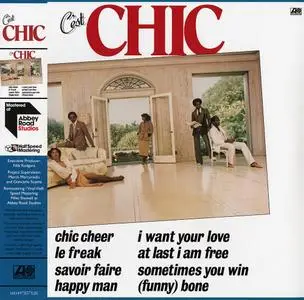 Chic - C'est Chic (2018 Abbey Road Half-Speed Mastered 180g Vinyl) (1978/2018)
Vinyl Rip | FLAC (tracks) 24-bit/192 kHz | Time - 42:05 minutes | 1,5 GB | Artwork - 270 MB
Disco, Funk | Label: Atlantic Records
C'est Chic is the second studio album by American R&B band Chic, released on Atlantic Records in 1978. These versions of Chic, C'est Chic and Risqué feature the Nile Rodgers' Signature Edition Remasters, which debuted last year as part of The Chic Organization 1977-1979 boxed set. Each album was remastered from the original Atlantic stereo tapes by Miles Showell at Abbey Road Studios. Rodgers served as executive producer and supervised the remastering with the approval of Bernard Edwards' estate. To ensure exceptional sound quality, the albums were mastered at half-speed and pressed on 180-gram vinyl.