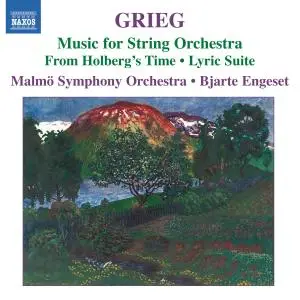 Malmö Symphony Orchestra, Bjarte Engeset - Grieg: Music for String Orchestra (2011)
WEB | FLAC (tracks) - 334 MB | 01:09:58
Genre: Classical | Label: Naxos
Like most of his contemporaries, Grieg was motivated by the popularity of works for string orchestra. Apart from his familiar and often-performed Op. 40 Holberg Suite, Grieg also turned to his own music – songs and piano miniatures – on several occasions to make even more arrangements for string orchestra. Grieg's ideal sound for these works was not of a small, intimate chamber ensemble, but a full, rich, symphonic string sound. The Malmö Symphony Orchestra under conductor Bjarte Engeset produces just such a sound: vibrant, shimmering violins; assertive, powerful violas; and articulate, resonating cellos and basses.