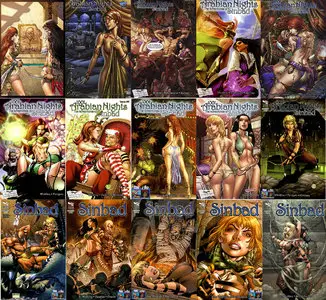 1001 Arabian Nights: The adventures of Sinbad #0-13
Zenescope, 2008-2010 | CBR/RAR | Spanish | 14 números (Completo) | 319 MB Total
Los fantásticos cuentos de aventuras de Las Mil y Una Noches han entretenido y encantado al público durante cientos de años. Ahora Zenescope trae una re-interpretación audaz de estos cuentos clásicos. Algunos lo llaman mujeriego, otros le llaman carismático, algunos piensan que es un bruto, otros que es encantador, pero todos saben una cosa: ¡Sinbad es un gran dolor en el trasero!
Cuando Sinbad es acusado injustamente de asesinato y desterrado de su ciudad natal, se entera de que hay un artefacto que podría ser capaz de limpiar su nombre, pero la búsqueda para encontrarlo ciertamente no es fácil. De mujeres hermosas a aterradoras criaturas a ejércitos de bandidos sedientos de sangre, esto es una fantasía épica / serie de aventuras que te enganchará.