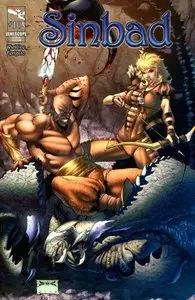 1001 Arabian Nights: The Adventures of Sinbad #10 (Ongoing)
Eng | RS & Hotfile | CBR | Zenescope Entertainment | Dec 3 2009 | 23 Pages | 9.8 MB
+ 1001 Arabian Nights: The Adventures of Sinbad Issues #0-9 Complete
Some call him a womanizer others call him charismatic, some think him a brute others charming but all know one thing – Sinbad is a serious bad-ass! Zenescope introduces , a series that will reinvent the legend. When Sinbad is unjustly accused of murder and banished from his home city, he learns there is one artifact that might be able to clear his name, but the quest to find it is certainly not an easy one. From beautiful women to terrifying creatures to armies of blood thirsty villains, this is one epic fantasy/adventure series that will hook you in and not let go. A Minutemen scan, just like the previous nine issues.
Sinbad and his crew have survived the deep fall into the Endless Chasm. At the bottom they find what they've been searching for - the lost City of the Dead! They also find giant man-eating scorpions and undead skeleton warriors, and they haven't even entered the city yet! The adventure ramps into high gear as Sinbad and his crew move closer to finding the second piece of the Jericho Visor, the crown of Annubis. By: Dan Wickline, Eduardo Ferigato, Joe Benitez --
Visit my
blog
often for regular and complete comic book series updates.