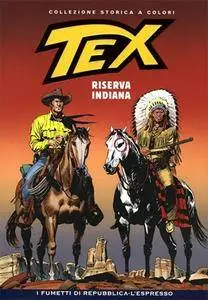 Tex Willer Collezione Storica a Colori 123 - Riserva Indiana (2009)
Italian | CBR + PDF | 309 pages | 190 MB
In una sera di bufera, Tex, Carson e i viaggiatori di una diligenza si rifugiano nella lugubre locanda dei Wallace, sullo Skeleton Pass. Il viscido Blackton molesta la giovane Terry Wallace e il fratello Jess la difende agitando un coltellaccio: la mattina dopo, Blackton viene trovato ucciso e derubato. Due passeggeri fuggono, ma dopo che il piombo dei rangers li ha fermati, scopriamo che avevano soltanto depredato il cadavere. Allora, chi è l'assassino? E perché i Wallace conservano ritagli di giornale riguardanti simili delitti avvenuti anni prima a Boston, loro città di origine?
Per scaricare Altri LIBRI in ITALIANO CLICCA QUI
>>> Visit My Blog Here <<<
If you like this release please support Developer / Publisher and BUY it.
If you'll find that my links are dead please let me know through the Private Messages.
Please DO NOT MIRROR