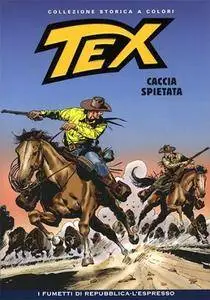 Tex Willer Collezione Storica a Colori 128 - Caccia spietata (2009)
Italian | CBR + PDF | 309 pages | 195 MB
Tex penetra nel covo degli strangolatori e libera Carson, Kit e Tiger Jack, destinati a morire sbranati dalle tigri! Di nuovo insieme, i pards eliminano il vile McMurdo, strappano la ragazza rapita dalle grinfie dei Thugs e allagano la caverna degli indù facendola saltare con la dinamite.
Per scaricare Altri FUMETTI in ITALIANO CLICCA QUI
>>> Visit My Blog Here <<<
If you like this release please support Developer / Publisher and BUY it.
If you'll find that my links are dead please let me know through the Private Messages.
Please DO NOT MIRROR