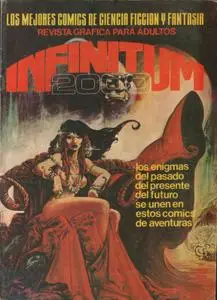 Infinitum 2000 #1-32 de 32
Producciones Editoriales, 1980 | CBR | Spanish | 32 núm. (Completo) | 1.48 MB Totales
Revista de aparición quincenal que recopila historietas de carácter fantástico y de ciencia ficción, muchas de las cuales ya habían sido anteriormente publicadas en revistas como Zombie (Editorial Petronio, 1973), Horror (Producciones Editoriales, 1973), u Horus (Producciones Editoriales, 1974), entre otras.
Se ofrecieron algunas series que se continuaron de número en número de diversa procedencia: Sikkim, dibujado por José Luis Ferrer, publicado anteriormente en la revista Horus de la misma editorial. El Inmortal, del italiano Paolo Ongaro, publicado ese mismo año por San Roman dentro de la colección Tumi. Tenax, con guiones de Ramón Ortega y dibujos de Jose María Ortiz y que se publicaron originalmente en Francia por la editorial Imperia. Las viñetas fueron remontadas para adaptar la historieta al formato de revista de Infinitum 2000. Los Diablos del Frente del Este, publicado originalmente con el nombre Fiends of the Eastern Front, en la revista Britanica 2000AD entre febrero y abril de 1980, con guión de Gerry Finley-Day y dibujos de Carlos Ezquerra.