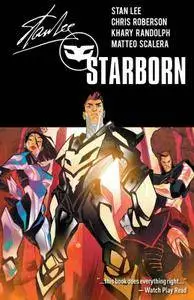 Stan Lee's Starborn Vol 3 TPB (2012)
English | CBR | 106 pages | 228.22 MB
Starborn sees Stan Lee join forces with New York Times bestselling writer Chris Roberson (Superman, iZombie, Cinderella: From Fabletown with Love) and world class artists Khary Randolph (Spider-Man, Teen Titans Go!) and Matteo Scalera (Deadpool) to present Volume 3 of the graphic novel series that is truly not of this world. A perfect jumping-on point for new readers, this collection sees Benjamin Warner fight to accept his unforgivable past as he takes up the unbelievable mantle of Starborn. With new menacing villains and other familiar superheroes, this graphic novel volume continues to be the most scintillating sci-fi superhero epic on the shelves.