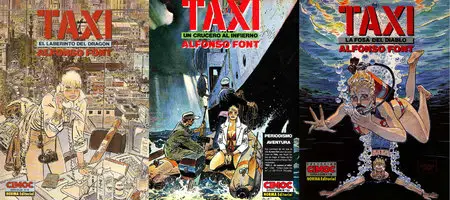 Alfonso Font - Taxi Tomo 1-3
CBR/RAR | Spanish | 3 Vol. | 90.9 MB Total
Beautiful, fearless, resourceful and talented. That's
Taxi
. One night, a man named Nelson rescues her from an attack… and changes her life. He works for a news agency called Control Press, and "recruits" Taxi for his investigative team.
In "
El labirinto del dragon
"(The Dragon's Labyrinth), a rampant disease is killing only black people. Taxi risks her life to expose the sinister plot behind this "Black Death." In "
Un Crucero al Infierno
" (A Cruise to Hell), things heat up as Taxi finds herself in the middle of an international crisis involving Israelis, Palestinians, arms dealers and lethal quantities of Plutonium. This time Taxi may be in way over her head. In "
La Fosa del Diablo
" (The Devil's Trench), an informant supplies Taxi and her cohorts with details to crimes before they happen. Taking on drug lords, assassins and corrupt police, Taxi needs eyes in the back of her head if she wants to survive this escapade.