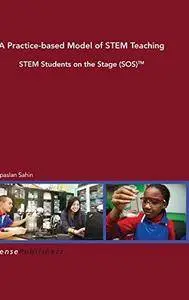 A Practice-based Model of STEM Teaching: STEM Students on the Stage By Alpaslan Sahin
2015 | 310 Pages | ISBN: 3000186948 | PDF | 16 MB
The STEM Students on the Stage (SOS)™ model was developed by Harmony Public Schools with the goal of teaching rigorous content in an engaging, fun and effective way. In this book, you will learn that the STEM SOS model is not only helping students learn STEM content and develop 21st-century skills, but also helping teachers improve their classroom climate through increased student-teacher communication and a reduction in classroom management issues. There are at least two ways in which this book is innovative. First, you will find student videos and websites associated with QR codes; readers can use their QR readers to watch student videos related to the content in the chapter and see student e-portfolio samples at their Google sites. This provides the opportunity to see that what is discussed in the book actually happened. Second, the book is not about a theory; it is an actual implemented model that has evolved through the years and has been used in more than 25 schools since 2012. Every year, the model continues to be improved to increase its rigor and ease of implementation for both teachers and students. In addition to using the book as a classroom teacher resource and guide, it can also be used as a textbook in advanced graduate level curriculum and instruction, educational leadership, and STEM education programs. Therefore, STEM educators, leaders, pre-service and in-service teachers and graduate students will all benefit from reading this book. Appendices will be one of the favorite aspects of this book for teachers who are constantly looking for ready-to-use student and teacher handouts and activities. Full handouts, including formative and summative assessments materials and grading rubrics, will provide an opportunity for teachers and curriculum directors to understand the ideas and secrets behind the STEM SOS model. Lastly, STEM directors will find this to be one of the best STEM teaching model examples on the market because the model has fully accessible student and teacher handouts, assessment materials, rubrics and hundreds of student products (e-portfolios including video presentations and project brochures) online.