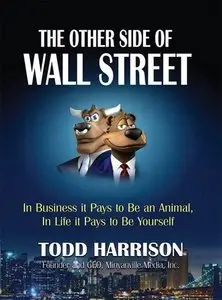 Todd A. Harrison, "The Other Side of Wall Street: In Business It Pays to Be an Animal, In Life It Pays to Be Yourself"
2011 | ISBN: 013248966X | 192 pages | EPUB, PDF | 3 MB
In The Other Side of Wall Street, Minyanville.com founder and former hedge fund honcho Todd Harrison shares never-before-told stories from the hidden side of Wall Street, including the adrenaline rush of trading at the highest levels, Wall Street's super-indulgent lifestyles; Harrison's time in the trenches fighting with (and then against) Jim Cramer; why he left investing completely, and how he returned to earn his redemption. Thousands of readers have tasted Harrison's story in a recent Dow Jones MarketWatch serialization: now for the first time, he shares his entire extraordinary personal memoir.
You'll walk alongside Harrison through the "golden door" that took him into Morgan Stanley in its 1990s heyday. Share his ringside view of the explosive growth of derivatives, and the disasters that followed. Ride the emotional roller coaster of colossal wins and losses and discover what it's really like to work with Jim Cramer. Then travel with Harrison through the 2000s, the most tumultuous decade in investing history. Harrison's seen it all, done it all, and earned perspective and insight available to only a few. If you want to know what it's really like at Wall Street's pinnacle–and in its deepest depths–one book will tell you: The Other Side of Wall Street.