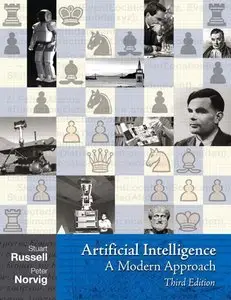 Peter Norvig, Stuart Russell, "Artificial Intelligence: A Modern Approach, 3rd Edition"
2009 | ISBN: 0136042597 | 1152 pages | EPUB, MOBI | 29 MB
This is the eBook of the printed book and may not include anymedia, website access codes, or print supplements that may comepackaged with the bound book.Artificial Intelligence: A ModernApproach, 3e offers the most comprehensive, up-to-dateintroduction to the theory and practice of artificial intelligence.Number one in its field, this textbook is ideal for one ortwo-semester, undergraduate or graduate-level courses in ArtificialIntelligence.Dr. Peter Norvig, contributing ArtificialIntelligence author and ProfessorSebastian Thrun, a Pearson author are offering a free online course atStanford University on artificial intelligence.According to an article in The New York Times, the course on artificial intelligenceis "one of three being offered experimentally by the Stanfordcomputer science department to extend technology knowledge andskills beyond this elite campus to the entire world." One ofthe other two courses, an introduction to database software, is being taughtby Pearson author Dr. Jennifer Widom.Artificial Intelligence: A Modern Approach, 3e is availableto purchase as an eText for your Kindle™, NOOK™, andthe iPhone®/iPad®.To learn more about the course on artificial intelligence, visithttp://www.ai-class.com. To read thefull New York Times article, click here.