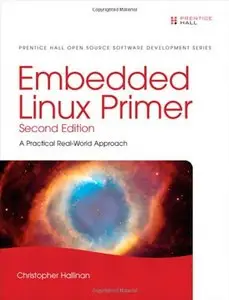 Embedded Linux Primer: A Practical Real-World Approach By Christopher Hallinan
Publisher: Pre nti ce H a l l 2011 | 656 Pages | ISBN: 0137017839 | PDF | 11 MB
Linux has emerged as today's #1 operating system for embedded products. Christopher Hallinan's Embedded Linux Primer has proven itself as the definitive real-world guide to building efficient, high-value, embedded systems with Linux. Now, Hallinan has thoroughly updated this highly praised book for the newest Linux kernels, capabilities, tools, and hardware support, including advanced multicore processors. Drawing on more than a decade of embedded Linux experience, Hallinan helps you rapidly climb the learning curve, whether you're moving from legacy environments or you're new to embedded programming. Hallinan addresses today's most important development challenges and demonstrates how to solve the problems you're most likely to encounter. You'll learn how to build a modern, efficient embedded Linux development environment, and then utilize it as productively as possible. Hallinan offers up-to-date guidance on everything from kernel configuration and initialization to bootloaders, device drivers to file systems, and BusyBox utilities to real-time configuration and system analysis. This edition adds entirely new chapters on UDEV, USB, and open source build systems.
Some audiobooks in one folder is here!!!
Some video tutorials in one folder is here!!!
!!!No Mirrors below, please! Follow Rules!