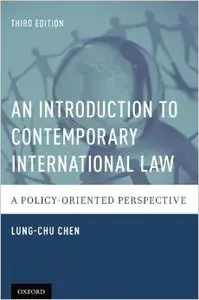 Lung-chu Chen, "An Introduction to Contemporary International Law: A Policy-Oriented Perspective (3rd Edition)"
2015 | ISBN-10: 0190227990, 0190227982 | 640 pages | PDF | 4 MB
An Introduction to Contemporary International Law: A Policy-Oriented Perspective introduces the reader to all major aspects of contemporary international law. It applies the highly acclaimed approach developed by the New Haven School of International Law, viewing international law as an ongoing process of decision-making through which the members of the world community identify, clarify, and secure their common interests. Unlike conventional works in international law, this work is organized and structured in terms of the process of decision making in the international arena, and references both classic historical examples and contemporary events to illustrate international legal processes and principles.
Using contemporary examples, this Third Edition builds on previous editions by contextualizing and dramatizing these changes with reference to seven features that characterize the New Haven School approach to international law: participants, perspectives, arenas of decision, bases of power, strategies, outcomes, and effects. This new edition highlights the major developments in international law since 2000, including the right to self-determination, the expanding scope of international concern and the duty of states to protect human rights, the trend towards greater accountability for states and individual decision-makers under international law, and the vital role individual responsibility plays in the emerging field of international criminal law. It provides a new generation of students with the interest and the intellectual tools needed to participate as responsible members of a world community premised on the notion of human dignity for all people.