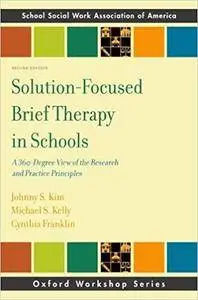 Johhny Kim, Michael Kelly, "Solution-Focused Brief Therapy in Schools: A 360-Degree View of the Research and Practice Principles"
2017 | 2 edition | ISBN-10: 0190607254 | 216 pages | PDF | 2 MB
Since the publication of the First Edition, there have been several advances on the research on Solution-focused Brief Therapy (SFBT) in schools. This Second Edition contains updates on how to apply SFBT to specific problem areas that school social workers frequently encounter. Each chapter has been updated and expanded to provide to incorporate a Response to Intervention approach (RtI) in many of the clinical "SFBT in Action" chapters. The authors also utilized results from the second national school social work survey, conducted by a team led by Dr. Kelly and currently in press at School Mental Health Journal and Social Work, to identify several targeted school-related problems that school social workers encounter in their work and demonstrate how to use solution-focused techniques for them.
Despite being places with tremendous challenges for students and staff, schools are also places of solutions, strengths, and successes. This practical guide shows school social workers how to harness the solutions; filled with case examples, key points to remember, guidelines for reviewing resaerch, sample dialogue, and best practice tips, this book gives readers the essential tools to begin incorporating SFBT into their practice immediately.