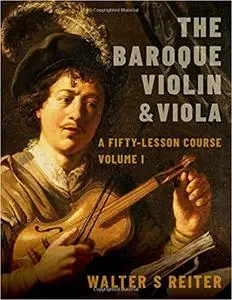 The Baroque Violin & Viola, vol. I: A Fifty-Lesson Course by Walter S. Reiter
English | Oct 9, 2020 | ISBN: 0190922699, 0190922702 | 308 pages | PDF | 13 MB
In the early seventeenth century, enthusiasm for the violin swept across Europe–this was an instrument capable of bewitching virtuosity, with the power to express emotions in a way only before achieved with the human voice. With this new guide to the Baroque violin, and its close cousin, the Baroque viola, distinguished performer and pedagogue Walter Reiter puts this power into the hands of today's players. Through fifty lessons based on the Reiter's own highly-renowned course at The Royal Conservatory of the Hague, The Baroque Violin & Viola, Volume I provides a comprehensive exploration of the period's rich and varied repertoire.
Volume I covers the basics of choosing a violin, techniques to produce an ideal sound, and sonatas by Vivaldi and Corelli. Practical exercises are integrated into each lesson, and accompanied by rich video demonstrations on the book's companion website. Brought to life by Reiter's deep insight into key repertoire based on a lifetime of playing and teaching, The Baroque Violin & Viola, Volume I: A Fifty-Lesson Course will enhance performances of professional and amateur musicians alike.
My nickname -
interes