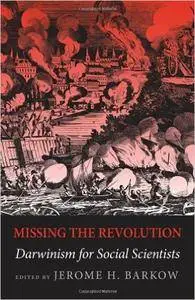 Jerome H. Barkow, "Missing the Revolution: Darwinism for Social Scientists"
English | 2005 | ISBN: 0195130022 | PDF | pages: 298 | 1.6 mb
In The Adapted Mind, Jerome Barkow, along with Leda Cosmides and John Tooby, set out to redefine evolutionary psychology for the social sciences and to create a new agenda for the next generation of social scientists. While biologically oriented psychologists quickly accepted the work, social scientists in psychology and researchers in anthropology and sociology, who deal with the same questions of human behavior, were more resistant. Missing the Revolution is an invitation to researchers from these disciplines who, in Barkow's view, have been missing the great evolution-revolution of our time to engage with Darwinian thought, which is now so large a part of the non-sociological study of human nature and society. Barkow asks the reader to put aside the preconceptions and stereotypes social scientists often have of the "biological" and to take into account a powerful paradigm that is far away from those past generations who would invoke a vocabulary of "genes" and "Darwin" as justification for genocide. The evolutionary perspective, Barkow maintains, provides no particular support for the status quo, no rationalizations for racism or any other form of social inequality. "Cultural" cannot possibly be opposed to "biological" because culture and society are the only means we have of expressing our evolved psychology; social-cultural constructionism is not only compatible with an evolutionary approach but demanded by it. To marshal evidence for his argument, Barkow has gathered together eminent scholars from a variety of disciplines to present applications of evolutionary psychology in a manner intended to illustrate their relevance to current concerns for social scientists. The contributors include, among others, evolutionary psychologist Anne Campbell, a Darwinian feminist who reaches out to feminist social cosntructionists; sociologist Ulica Segarsträle, who analyzes the opposition of the "cultural left" to Darwinism; sociologist Bernd Baldus, who criticizes evolutionists for ignoring agency; criminologist Anthony Walsh, who presents a biosocial criminology; and primatologists Lars Rodseth and Shannon A. Novak, who reveal an unexpected uniqueness to human social organization. Missing the Revolution is a challenge to scholars to think critically about a powerful social and intellectual movement which insists that the theoretical perspective that has been so successful when applied to the behavior of other animal species can be applied to our own.