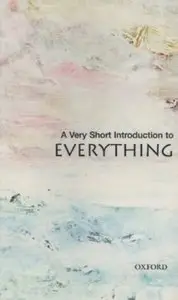 A Very Short Introduction to Everything
English | 2006 | ISBN: 0199208190 | PDF | 125 pages | 4 MB
The Very Short Introductions series is phenomenally successful, enjoying widespread critical acclaim. Perfect for train journeys, holidays, and as a quick catch-up for busy people who want something intellectually stimulating, the carefully selected authors combine authoritative analysis, new ideas, and enthusiasm to provide much more than a straightforward introduction to each topic. These vibrant and accessible books can change the way you think about the things that interest you, and are the perfect introduction to subjects you previously knew nothing about. From a lucid explanation of the essential issues in Islam to a lively insight into the complex theory of Poststructuralism, and a non-technical assessment of the very matter that makes up the universe in Cosmology, Very Short Introductions make often challenging topics highly readable and have proven to be extremely popular with general readers, as well as undergraduate students and their lecturers. The series was originally launched in 1995 with the first title, Classics: A Very Short Introduction, and has quickly grown to become the general introduction series for the intelligent reader worldwide, being translated into over 20 languages. It will expand into a library of around 250 titles covering a wide range of key topics, from The Brain to Ancient Egypt, Music to Buddhist Ethics, in subject areas such as history, philosophy, science, religion, politics, and the arts. 2006 sees the publication of the 150th title in the series, The Roman Empire. This collection – Everything, A Very Short Introduction – has been put together to give you a taste of the series, with articles by seven of the authors on their subject area, as well as snapshots of each title.