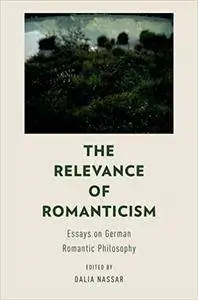 The Relevance of Romanticism: Essays on German Romantic Philosophy by Dalia Nassar
English | 2014 | ISBN: 0199976201, 019997621X | 368 pages | PDF | 3 MB
Since the early 1990s, there has been a resurgence of interest in philosophy between Kant and Hegel, and in early German romanticism in particular. Philosophers have come to recognize that, in spite of significant differences between the contemporary and romantic contexts, romanticism continues to persist, and the questions which the romantics raised remain relevant today. The Relevance of Romanticism: Essays on Early German Romantic Philosophy is the first collection of essays that offers an in-depth analysis of the reasons why philosophers are (and should be) concerned with romanticism. Through historical and systematic reconstructions, the collection offers a deeper understanding and more encompassing picture of romanticism as a philosophical movement than has been presented thus far, and explicates the role that romanticism plays – or can play – in contemporary philosophical debates.
The volume includes essays by a number of preeminent international scholars and philosophers – Karl Ameriks, Frederick Beiser, Richard Eldridge, Michael Forster, Manfred Frank, Jane Kneller, and Paul Redding – who discuss the nature of philosophical romanticism and its potential to address contemporary questions and concerns. Through contributions from established and emerging philosophers, discussing key romantic themes and concerns, the volume highlights the diversity both within romantic thought and its contemporary reception. Part One consists of the first published encounter between Manfred Frank and Frederick Beiser, in which the two major scholars directly discuss their vastly differing interpretations of philosophical romanticism. Part Two draws significant connections between romantic conceptions of history, sociability, hermeneutics and education and explores the ways in which these views can illuminate pressing questions in contemporary social-political philosophy and theories of interpretation. Part Three consists in some of the most innovative takes on romantic aesthetics, which seek to bring romantic thought into dialogue, with, for instance, contemporary Analytic aesthetics and theories of cognition/mind. The final part offers one of the few rigorous engagements with romantic conceptions science, and demonstrates ways in which the romantic views of nature, scientific experimentation and mathematics need not be relegated to historical curiosities.