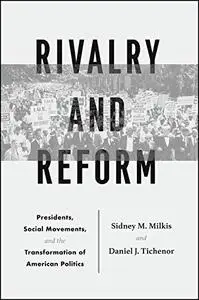 Rivalry and Reform: Presidents, Social Movements, and the Transformation of American Politics by Sidney M. Milkis, Daniel J. Tichenor
2019 | ISBN: 022656939X, 022656925X | English | 400 pages | True PDF | 3 MB
Few relationships have proved more pivotal in changing the course of American politics than those between presidents and social movements. For all their differences, both presidents and social movements are driven by a desire to recast the political system, often pursuing rival agendas that set them on a collision course. Even when their interests converge, these two actors often compete to control the timing and conditions of political change. During rare historical moments, however, presidents and social movements forged partnerships that profoundly recast American politics.
Rivalry and Reform explores the relationship between presidents and social movements throughout history and into the present day, revealing the patterns that emerge from the epic battles and uneasy partnerships that have profoundly shaped reform. Through a series of case studies, including Abraham Lincoln and abolitionism, Lyndon Johnson and the civil rights movement, and Ronald Reagan and the religious right, Sidney M. Milkis and Daniel J. Tichenor argue persuasively that major political change usually reflects neither a top-down nor bottom-up strategy but a crucial interplay between the two. Savvy leaders, the authors show, use social movements to support their policy goals. At the same time, the most successful social movements target the president as either a source of powerful support or the center of opposition. The book concludes with a consideration of Barack Obama's approach to contemporary social movements such as Black Lives Matter, United We Dream, and Marriage Equality.