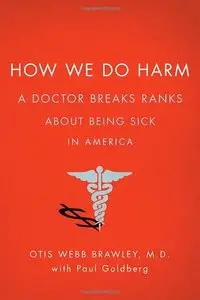 Otis Webb Brawley, Paul Goldberg, "How We Do Harm: A Doctor Breaks Ranks about Being Sick in America"
2012 | ISBN: 0312672977, 1250015766 | 320 pages | EPUB | 3,2 MB
Dr. Otis Brawley is the chief medical and scientific officer of the American Cancer Society, an oncologist with a dazzling clinical, research, and policy career. In "How We Do Harm" he exposes the underbelly of healthcare today - the under treatment of the poor, the over treatment of the rich, the financial conflicts of interests physicians face, insurance that doesn't demand the best (or even cheapest) care, and a pharmaceutical behemoth concerned with selling drugs, not providing health. "How We Do Harm" is a call for rational care, drawn from results-based, scientifically reproducible treatments and protocols based on science, and not the new, hot drug. Guided by the maxim he learned in Jesuit high school, "say what you know, what you don't know, and what you believe - and label it accordingly," Dr. Brawley believes scepticism should be the mainstream. D r. Brawley's personal history serves as a window into an experienced and passionate view of medicine and the politics of treatment, and How We Do Harm is his well-reasoned manifesto for change.