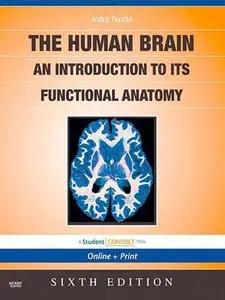 John Nolte PhD, "The Human Brain: An Introduction to its Functional Anatomy With STUDENT CONSULT Online Access, 6e"
English | ISBN: 0323041310 | 2008 | PDF | 736 pages | 95 MB
Already known as the reference of choice for expert coverage on the structure and function of the human brain and the nervous system, Nolte's The Human Brain continues to impress with essential updates throughout this new edition. It includes a new chapter on formation, modification, and repair of connections, with coverage of learning and memory, as well as the coming revolution of ways to fix damaged nervous systems, trophic factors, stem cells, and more. 550 full-color illustrations-more than 650 in all-support the text and depict every nuance of brain function. But, best of all, your purchase now includes access to the entire contents online, including all of the book's illustrations, video clips, and additional software, plus many other exclusive features at
www.studentconsult.com
.
Features a single-authored approach for a more consistent, readable text.
Discusses all key topics in functional neuroanatomy and neuroscience, giving you well-rounded coverage of this complex subject.
Includes clinical examples throughout for a real-life perspective.
Uses summary statement headings that speed you to the information you need.
Presents chapter outlines that encourage you to stay organized and focused.
Incorporates 3-dimensional brain images and more than 650 illustrations that add increased visual clarity and a greater understanding of every concept.
Includes a glossary of key terms that elucidates every part of the text.
Features updates throughout, as well as many new illustrations using the most current neuroimaging techniques, reflecting recent developments and changes in understanding to acquaint you with the very latest knowledge in the field.
Discusses the hot topic of neural plasticity in a new chapter on formation, modification, and repair of connections, with coverage of learning and memory, as well as the coming revolution in ways to fix damaged nervous systems, trophic factors, stem cells, and more.
Uses chapter outlines, offering you a focused approach to study.
Offers unlimited access to the complete contents of the book online, as well as video clips and additional software at
www.studentconsult.com
, so you can consult it anywhere you go…perform quick searches…add your own notes and bookmarks…follow Integration Links to related bonus content from other Student Consult titles…and reference all of the other Student Consult titles you own online, too-all in one place!