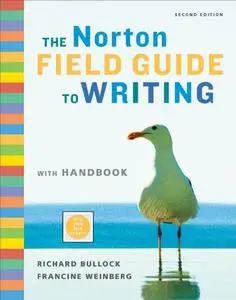 The Norton Field Guide to Writing with Handbook (Second Edition with 2009 MLA Updates) by Richard Bullock, Francine Weinberg
English | 2009 | ISBN: 039393439X | 644 pages | PDF | 7,8 MB
The most successful new rhetoric in a generation, now in a version with a handbook—everything students need to write and edit all the kinds of writing they're expected to do.
Easy to use, flexible, and a great value. With just enough detail – and color-coded links that send students to more detail if they need it – this is the rhetoric that tells students what they need to know and resists the temptation to tell them everything there is to know. The first rhetoric designed for easy reference—with menus, directories, and a glossary/index that make it easy to use.
The Norton Field Guide to Writing with Handbook is 2 books in one—the rhetoric is up front, providing the guidance students need on writing and research; the handbook is in the back, helping them edit what they write.
My nickname -
interes