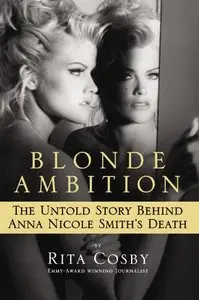 Rita Cosby, "Blonde Ambition: The Untold Story Behind Anna Nicole Smith's Death"
2008 | ISBN-10: 0446406112, 0446406120 | 256 pages | EPUB | 0,2 MB
This is a story of deception, secret deals, and a firestorm of trouble.
Anna Nicole Smith: she was famous for being famous. She was Americana at its scarlet letter wearing best –a bodacious young girl from Texas who remade herself into the centerfold of the world. She was a Playboy star, a stripper, a "gold-digger," a "dumb blonde" who nevertheless found herself before the Supreme Court of the United States. Easy to dismiss, she was nevertheless, a complex character – helpless yet brazen, beautiful yet ugly, outwardly confident yet inwardly frightened. Her tragic life and untimely death evoke an odd mix of fascination, shock, and dismay. And through it all, there exists a voracious thirst to discover more about who she actually was, what motivated her, and especially how she really died.
Unless you've been living under a rock, you probably think you know all there is to know. She overdosed. She was a drug addict.
You don't know a thing.
In a book that is sure to shock even the most avid pop culture junkies, Rita Cosby blows the lid off of the story of the year. After an in-depth investigation, this is the definitive journalistic account of the Anna Nicole Smith saga–with unearthed secrets and explosive, never-before-told information.