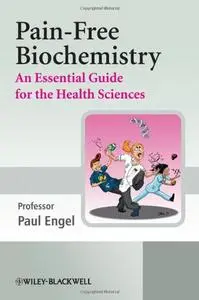 Pain-Free Biochemistry: An Essential Guide for the Health Sciences by Paul Engel
English | 2010-02-16 | ISBN: 047006045X, 0470060468 | 345 pages | PDF | 16 mb
If you are an undergraduate nursing or healthcare student about to embark on a short course in biochemistry and feel daunted by the prospect because you've done very little chemistry in the past, found it difficult or studied it so long ago you've forgotten it all, then this is the book for you. Equally, if clinical practice has brought you back to biochemistry just when you were hoping you could forget it all, this could be your lifeline!
Having taught biochemistry to all sorts of students, from nurses to chemical engineers, for more than 30 years, Professor Paul Engel knows how to take the 'pain' out of your studies. For those who are a bit wobbly on molecules, bonds, ions, etc. this text also has just enough supporting chemistry slipped in where appropriate to help things make sense. Accessible, enjoyable to read and packed with a wealth of clinical examples from heart disease to cancer and blood clotting to antibiotics, this handy textbook will reveal how biochemistry is fundamental to clinical practice and everyday life. Drugs, diet, disease, DNA – it all comes down to biochemistry.
My nickname -
interes