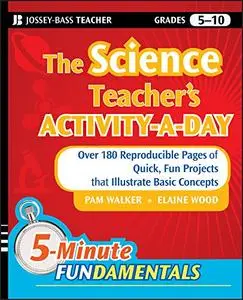 The Science Teacher's Activity-A-Day, Grades 5-10: Over 180 Reproducible Pages of Quick, Fun Projects that Illustrate Basic Concepts (JB-Ed: 5 Minute FUNdamentals) by Elaine Wood, Pam Walker
English | October 5, 2010 | ISBN: 0470408812 | EPUB | 288 pages | 2.9 MB
The volume in the 5-Minute FUNdamentals Series, The Science Teacher's Activity-a-Day is a fun-filled resource for teaching hands-on science to middle and high school students. With over 180 five-minute hook or sponge activities, teachers will find it easy to capture students' imaginations and introduce compelling science lessons.
Inside this book, you will discover:
Over 180 easy, five-minute sponge activities geared to various levels
Activities incorporating all major science topics—life science, physical science, and earth and space science
Projects that can all be accomplished with inexpensive and easy-to-find materials, such as string, clay, scissors, chalk, and plastic bottles
Activities that are clearly correlated to national science education standards
These quick warm-up lessons can help students link familiar concepts to a new topic, or reveal gaps in knowledge, making it easy to set learning goals. With these engaging, exciting lessons, The Science Teacher's Activity-a-Day can help every science teacher get his or her class off to a dynamic start.