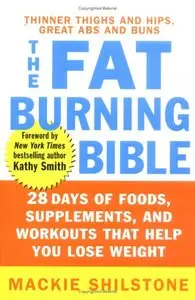 Mackie Shilstone " The Fat-Burning Bible: 28 Days of Foods, Supplements, and Workouts that Help You Lose Weight "
Wiley | 2004-12-03 | ISBN: 0471655295 | 288 pages | PDF | 4,1 MB
The Clinically Proven Way to Burn Fat and Lose Weight!
"One of the most comprehensive nutritional and exercise programs I've ever encountered. This groundbreaking work is sure to be a powerful tool in the hands of anyone wanting to lose excess body fat while increasing his or her knowledge about this complex subject. . . . Mackie isn't kidding when he calls his book a 'bible'—indeed, its scope and degree of detail are remarkable. . . . Through careful organization of the material, Mackie's explanations have the miraculous power to provide more detail and a simplified understanding at the same time. . . . Obesity is becoming the number one disease in North America. The powerful exercise, nutritional, and stress-reducing strategies in this book are one sure step towards a cure."
—From the Foreword by Kathy Smith
Mackie Shilstone is famous for helping world-class athletes and business titans look great, take their bodies to the next level, and achieve peak performance. Now he presents an all-new approach to burning fat for both women and men using his unique nutrition and exercise programs. The Fat-Burning Bible gives you the secrets and tools to increase your metabolism, target the parts of your body that carry excess fat—and see results in just four weeks. Inside you'll find:
Six levels of targeted meal plans and 74 recipes featuring low-fat, low-glycemic, high-flavor foods
Mackie's all-new gender-specific cardio, circuit, and core training routines
64 step-by-step photographs illustrating the customized exercises
Must-know information on 6 highly effective fat-burning supplements
Real-life success stories of Mackie's clients
This is the only weight-loss bible you will ever need to burn fat, slim down, and look great!