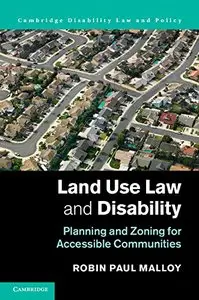 Land Use Law and Disability: Planning and Zoning for Accessible Communities by Robin Paul Malloy
English | 2014 | ISBN: 0521193931 | 275 pages | PDF | 1,3 MB
In Land Use Law and Disability, Robin Paul Malloy argues that our communities need better planning to be safely and easily navigated by people with mobility impairment and to facilitate intergenerational aging in place.
To achieve this, communities will need to think of mobility impairment and inclusive design as land use and planning issues, in addition to understanding them as matters of civil and constitutional rights. Although much has been written about the rights of people with disabilities, little has been said about the interplay between disability and land use regulation. This book undertakes to explain mobility impairment, as one type of disability, in terms of planning and zoning. The goal is to advance our understanding of disability in terms of planning and zoning to facilitate cooperative engagement between disability rights advocates and land use professionals. This in turn should lead to improved community planning for accessibility and aging in place.