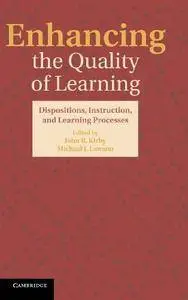 John R. Kirby, Michael J. Lawson, "Enhancing the Quality of Learning: Dispositions, Instruction, and Learning Processes"
English | 2012 | ISBN: 0521199425 | PDF | pages: 416 | 2.1 mb
High quality learning is extensive, well integrated, deep, and supports the use of knowledge in new situations that require adaptation of what has been learned previously. This book reviews current research on the nature of high quality learning and the factors that facilitate or inhibit it. The book addresses relationships between quality of learning and learners' dispositions, teaching methods, cognitive strategies, assessment, and technologies that can support learning. The chapters provide theoretical analyses, reports of classroom research, and suggestions for practical application for both teachers and learners. The book will be of value to teachers at all levels of education and provides guidance for students about how to approach classroom tasks in order to develop high quality learning.