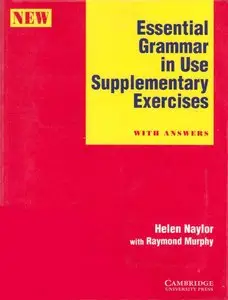 Essential Grammar in Use Supplementary Exercises With key by Helen Naylor and Raymond Murphy
English | 1996 | ISBN: 052146997X | 106 pages | scan PDF | 4,4 MB
This book of supplementary grammar exercises for elementary and lower intermediate students of English accompanies the second edition of Essential Grammar in Use. It contains a wealth of additional exercises which provide students with further practice of the grammar they have studied.
* Provides challenging contrastive practice of the forms students of this level find most difficult. * Offers a wide variety of interesting exercise types with clear illustration. * Is clearly cross-referenced to the second edition of Essential Grammar in Use but is flexible enough to be used independently. * Contains useful revision material suitable for class use or for homework.