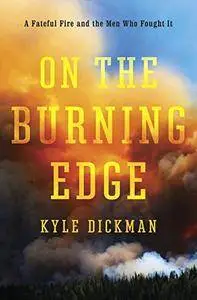 On the Burning Edge: A Fateful Fire and the Men Who Fought It by Kyle Dickman
English | May 12, 2015 | ISBN: 0553392123 | True EPUB | 304 pages | 14.5 MB
The definitive account of one of the deadliest wildfires in U.S. history, which killed nineteen elite firefighters of the Granite Mountain Hotshots and also inspired the major motion picture Only the Brave.
"A tear-jerking classic."—Outside • Named One of the Best Books of the Year by Men's Journal
On June 28, 2013, a single bolt of lightning sparked an inferno that devoured more than eight thousand acres in northern Arizona. Twenty elite firefighters—the Granite Mountain Hotshots—walked together into the Yarnell Hill Fire, tools in their hands and emergency fire shelters on their hips. Only one of them walked out.
An award-winning journalist and former wildland firefighter, Kyle Dickman brings to the story a professional's understanding of how wildfires ignite, how they spread, and how they are fought. He understands hotshots and their culture: the pain and glory of a rough and vital job, the brotherly bonds born of dangerous work. Drawing on dozens of interviews with officials, families of the fallen, and the lone survivor, he describes in vivid detail what it's like to stand inside a raging fire—and shows how the increased population and decreased water supply of the American West guarantee that many more young men will step into harm's way in the coming years.