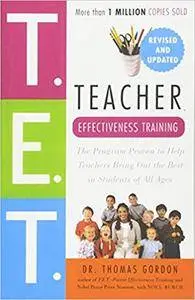 Thomas Gordon, "Teacher Effectiveness Training: The Program Proven to Help Teachers Bring Out the Best in Students of All Ages"
ISBN: 0609809326 | 2003 | EPUB | 443 pages | 3 MB
For nearly thirty years, Teacher Effectiveness Training, or the T.E.T. book, based on Dr. Thomas Gordon's groundbreaking program, has taught hundreds of thousands of teachers around the world the skills they need to deal with the inevitable student discipline problems effectively and humanely.
Now revised and updated, T.E.T. can mean the difference between an unproductive, disruptive classroom and a cooperative, productive environment in which students flourish and teachers feel rewarded.
You will learn:
• What to do when students give you problems
• How to talk so that students will listen
• How to resolve conflicts so no one loses and no one gets hurt
• How to best help students when they're having a problem
• How to set classroom rules so that far less enforcement is necessary
• How to increase teaching and learning time