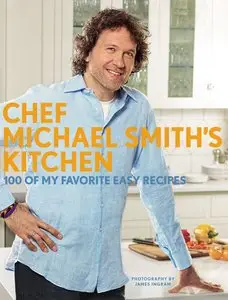 Michael Smith, "Chef Michael Smith's Kitchen: 100 of My Favorite Easy Recipes"
ISBN: 0670066915 | 2012 | EPUB | 288 pages | 80 MB
Even those who've never heard of, watched, or read 2010 Vancouver Olympics chef and Prince Edward Island–based TV host Smith (Open Kitchen, 1998; Chef at Home, 2005; etc.) will find all the possibilities of good, healthy, and (fairly) quick-to-cook dishes explored here. Kitchen tips are embedded in every one of the 100 recipes, which are accompanied by high-quality color photographs of the final dishes. It'll be difficult to decide what to cook and serve. The more intricate caramel-apple flapjack (with tons of calories) or the simpler extra-blueberry muffin with brown butter? Smith's Iron Chef snack, a mixture of tuna, avocado, and tomato? Beer-braised short ribs, which require a truly long time to cook? Or dark-chocolate peanut-butter cups, using lined-muffin tins for molding them? Throughout the collection, Smith emphasizes fresh ingredients and less involved techniques, plus a flavorcentric approach to ensure the best results.