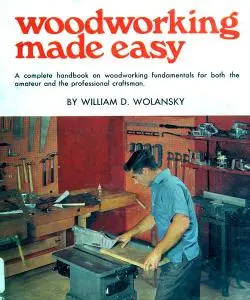 Woodworking Made Easy: A Complete Handbook on Woodworking Fundamentals for Both the Amateur and Professional Craftsman
William D Wolansky | 1972 | ISBN: 0684130750 | 179 pages | PDF | 101 MB
"Woodworking Made Easy' has been written for anyone wishing to further his knowledge of materials, tools, machines, cabinet structures, furniture design and finishing materials, and also for those interested in setting up a home workshop.
It is also an extremely useful handbook for students taking general woodworking.
This book teaches readers how to read and interpret drawings, illustrations, and printed material, and how to develop a logical approach to woodworking. It will also help to develop skills which will bring many hours of pleasurable accomplishment in the construction of articles for the home.