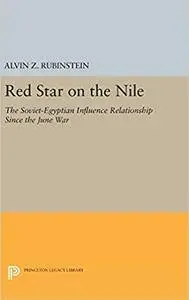 Alvin Z. Rubinstein, "Red Star on the Nile: The Soviet-Egyptian Influence Relationship Since the June War"
2016 | ISBN-10: 0691644004 | 410 pages | PDF | 15 MB
The Soviet-Egyptian relationship after the June War of 1967 was a new one for both countries, and its consequences were of global importance. Drawing on all available Soviet and Arab materials, Alvin Rubinstein develops the concept of influence as an analytical tool and explores in comprehensive fashion the diplomatic, military, political, and economic aspects of the influence relationship between the two nations in recent years.
The author's approach is chronological, analytical, and oriented toward the issues. He finds that the relationship has been fundamentally asymmetrical in aims and accomplishments. Egypt's remarkable comeback after the June War would not have been possible without Soviet aid, but Moscow benefited primarily in the context of the Soviet-American strategic rivalry in the Middle East, and only peripherally in terms of influence over Egypt.
Considering broader Soviet-Third World relationships, the author shows that there is no demonstrable correlation between intensified interactions and influence, that an extensive presence is no assurance of influence, and that Soviet influence can seldom be exercised at will in the absence of an ability to project Soviet military power directly.
Originally published in 1977.