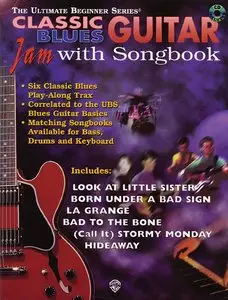 Classic Blues Guitar: Jam With Songbook by Alfred Publishing
English | Jan 1998 | ISBN: 0769214797 | 52 Pages | PDF | 10 MB
These songbooks are correlated to the immensely successful Ultimate Beginner Series Basics books. Learn each main riff and lick, then jam with your band on the included play-along tracks. Matching songbooks are available for guitar, bass, drums, and keyboard. The songs are easy to learn and recognizable. Every enjoys playing them and you gotta know them if you are going to a blues jam.
The songs are easy to learn and recognizable. Every enjoys playing them and you gotta know them if you are going to a blues jam. It provides ok backings and notation for the tracks. Songs include:
1. (Call It) Stormy Monday - T-Bone Walker, Allman Brothers
2. Bad To The Bone - George Thorogood
3. Born Under A Bad Sign - Albert King, Eric Clapton
4. Hideaway - Freddy King, Eric Clapton
5. La Grange - ZZ Top
6. Look At Little Sister - Stevie Ray Vaughan