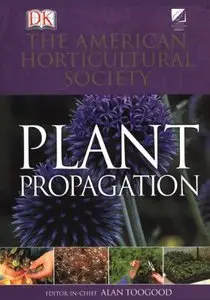 American Horticultural Society Plant Propagation: The Fully Illustrated Plant-by-Plant Manual of Practical Techniques by Alan Toogood
English | ISBN: 0789441160 | 1999 | 320 pages | PDF | 87,7 MB
The unrivaled priatical guide to the successful propagation of all garden plants – from trees and shrubs to culinary herbs.
Expert Guidance On The Propagation Of More Than 1,500 Plants. Whether you want to increase your plants by the easiest or most reliable methods of propagation, or experiment with more unusual or advanced techniques, or use specialized techniques for a favorite plant group, AHS Plant Propagation contains all the techniques you need in easy-to-follow, step-by-step explanations such as: What is is the best way to propogate a plant? Each entry in the A-Z section of Plant Propagation tells you, plant by plant, which method of propagation to use, when to do it, and what degree of skill each method requires. How can you improve germination of seeds? AHS Plant Propagation tells you which seeds need special treatment before sowing and how to provide the conditions to ensure a good rate of germination. How long does it take to obtain a flowering plant? AHS Plant Propagation gives guidelines on the average success rate for each plant, how big a yield you can expect, and how long it should take to get a mature or flowering plant. How do you make sure cuttings won't fail? AHS Plant Propagation tells you how to take appropriate cuttings from each type of plant and how to make sure they root successfully. Destined to become the standard work on the subject, AHS Plant Propagation is the practical handbook gardeners have been waiting for.