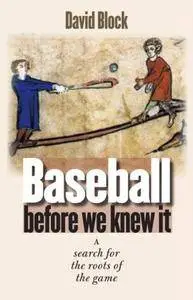 David Block, "Baseball Before We Knew It: A Search for the Roots of the Game"
2005 | pages: 369 | ISBN: 0803213395 | PDF | 4,1 mb
It may be America's game, but no one seems to know how or when baseball really started. Theories abound, myths proliferate, but reliable information has been in short supply—until now, when Baseball before We Knew It brings fresh new evidence of baseball's origins into play. David Block looks into the early history of the game and of the 150-year-old debate about its beginnings. He tackles one stubborn misconception after another, debunking the enduring belief that baseball descended from the English game of rounders and revealing a surprising new explanation for the most notorious myth of all—the Abner Doubleday–Cooperstown story. Block's book takes readers on an exhilarating journey through the centuries in search of clues to the evolution of our modern National Pastime. Among his startling discoveries is a set of long-forgotten baseball rules from the 1700s. Block evaluates the originality and historical significance of the Knickerbocker rules of 1845, revisits European studies on the ancestry of baseball which indicate that the game dates back hundreds, if not thousands of years, and assembles a detailed history of games and pastimes from the Middle Ages onward that contributed to baseball's development. In its thoroughness and reach, and its extensive descriptive bibliography of early baseball sources, this book is a unique and invaluable resource—a comprehensive, reliable, and readable account of baseball before it was America's game.
My Link