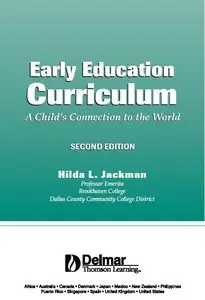 Early Education Curriculum: A Child's Connection to the World by Hilda L. Jackman
English | September 1996 | ISBN-10: 0827373279 | 346 pages | PDF | 9,8 MB
This innovative text presents developmentally appropriate early childhood curriculum in a clear easy-to-read style. All chapters of the text stand alone, while complementing each other to form the whole curriculum for children from infancy to eight years.
The text includes original songs, poems, dramatic play activities, as well as numerous illustrations, photos, diagrams, references, and teachers' resources. Part 1 presents the elements of the foundation of early education curriculum, including curriculum development, multicultural/anti-bias considerations, lesson and activity plans. Part 2 explores each curriculum area, taking into consideration the individual child, groups of children, the process of setting up appropriate learning environments, and integration of all curricula. Each chapter presents developmentally appropriate activities for each age group and encourages self-esteem and creativity development.