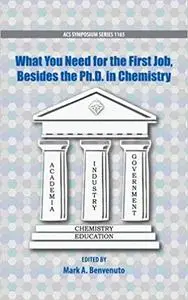 Mark A. Benvenuto, "What You Need For the First Job, Besides the PhD in Chemistry"
English | 2015 | pages: 173 | ISBN: 0841229627 | PDF | 3,4 mb
This volume is an attempt to educate, to provide a source of information, knowledge, and wisdom to the person who has spent so much time and energy on his or her schooling. The Council for Chemical Research (CCR) and the American Chemical Society (ACS) have both spent considerable effort over the past decades focusing on how to ensure that graduate education in the chemical sciences remains at the absolute highest caliber, and produces the best possible professionals. In spite of notable efforts from both organizations to prepare graduate students for the professional world, neither has specifically asked what a person needs to be successful once they have both the Ph.D. and the first job in hand. Put succinctly, there is much more to being successful in a career in chemistry than just the hard-earned Ph.D. degree.
What You Need for the First Job, Besides the Ph.D. in Chemistry is based on a symposium of the same name held at the 246th National Meeting of the American Chemical Society, which took place in Indianapolis, Indiana in September, 2013. This book is the result of seeds that were planted during numerous informal conversations at the annual meetings of the CCR, as well as during such discussions at national and regional meetings of the ACS, and at the ACS employment clearing houses. The authors felt that the same intense focus a person needs to earn a Ph.D. might actually work against the attention to other details needed in order to be successful once he or she has obtained a position. Leaders want to ensure that new hires are working effectively toward tenure, are quickly becoming productive members of their corporate team, or are well integrated into their government laboratory research group. While it is easy to lump factors other than technical competence in one's job under the term "soft skills," this is an oversimplification. This book represents an attempt to have voices from all three pillars of the chemical enterprise - academia, industry, and government laboratories - heard in terms of relating what is important for their newly hired Ph.D.-holders. What You Need for the First Job, Besides the Ph.D. in Chemistry will be a valuable resource for first-time job seekers, as well as those with aspirations of a future career in the chemical sciences.
My Link