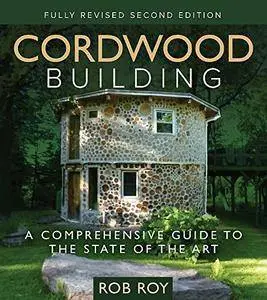 Cordwood Building: A Comprehensive Guide to the State of the Art by Rob Roy
2016 | ISBN: 0865718288 | English | 288 pages | PDF | 14 MB
Cordwood masonry walls are low-cost, easy to build, aesthetically pleasing, and score high environmental points for making use of low-impact materials.
This fully revised second edition of the most widely read and used book on cordwood construction presents the latest innovations and on-the-ground experience from four decades of cordwood building and research.
New chapters cover the practical how-to and the full depth and breadth of cordwood construction, including load-bearing and non-load-bearing walls, integrating electrical wiring, innovations on corner designs, new mortar options such as lime putty, and the latest on cob-cordwood, insulation options, and bottle-end designs. There is detailed treatment of code compliance, efficient house shapes, and design considerations.
Richly illustrated and augmented with fresh case studies ranging from Hawaii and the Adirondacks to Tasmania and Michigan, Cordwood Building remains the most comprehensive book available on cordwood masonry construction methods.
Rob Roy has been building, researching and teaching about cordwood masonry for four decades. Widely recognized as a world leading authority on cordwood construction, Rob started Earthwood Building School in 1981 to train builders in the latest cordwood building methods. He has authored and edited a dozen books on alternative and natural building including the first edition of Cordwood Building, Timber Framing for the Rest of Us, Earth-Sheltered Houses, and Stoneview. Rob has also presented four videos, including two about cordwood, and has taught cordwood masonry all over the world.