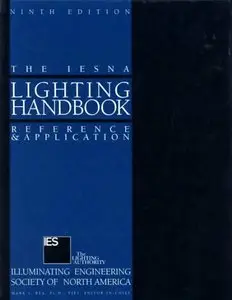 Mark Stanley Rea, "IESNA Lighting Handbook"
English | 2000 | ISBN: 0879951508 | PDF | pages: 1037 | 68,2 mb
The IESNA Lighting Handbook (9th Edition) is the best and most complete lighting reference book ever written! It has everything from how luminaires are constructed, to lighting calculations to energy management. It has chapters that discusses in depth topics such as color, daylighting, lighting calculations, retail lighting, exterior lighting, lighting economics and lighting controls. It even has a chapter on Under Water lighting! The book includes the new IESNA Lighting Design Guide that addresses the quality of the Visual Environment. All in all, this is a must have book for every lighting designer. Even though it is a little expensive, it is still worth MUCH more than what it costs.
My Links

No mirrors please!