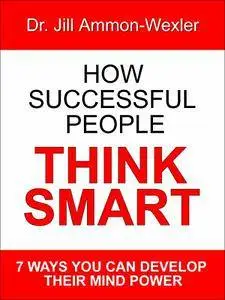 Dr Jill Ammon-Wexler , "How Successful People Think Smart: 7 Ways You Can Develop Their Mind Power"
2014 | EPUB | 54 pages | ISBN: 0991037928 | English | 0.2 MB
WHY are some people so successful?
The REAL secret is HOW they use their brain power
People who are successful all share one common secret: they use their brain in a very special way. This mini-book shows EXACTLY how the brains of successful men and women are different. WHY they're smarter, faster, more creative, unstoppable, and end up on top. But winners were NOT necessarily born with high performance brains.
The author, an unusual 45-year pioneer brain/mind researcher and doctor of psychology, provides amazing insights and exercises to help YOU INSTANTLY turn on the same parts of YOUR brain. This short book actually shows you how think like successful people think. Your brain is your ultimate success tool. Change your brain and you change your entire destiny!
From reading this insight-packed book you'll discover:
EXACTLY what's happening inside your brain when you WANT something, and how to blast through the resistance that keeps you from getting it.
WHAT happens in your brain when you think about the future, and how to develop the brain-based motivation that guarantees you'll get what you want.
POWERFUL tools and methods to get what you want FASTER and EASIER.
EXACTLY what happens in your brain when you think about the past, and how to override the negative influence of past failures and negative mind sets.
And MUCH more.
To Start Download click here: