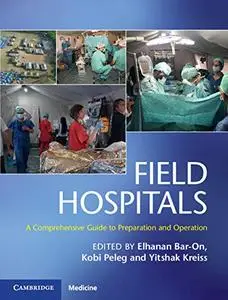 Field Hospitals: A Comprehensive Guide to Preparation and Operation by Elhanan Bar-On, Kobi Peleg
English | Feb 27, 2020 | ISBN: 110714132X | 342 pages | PDF | 46 MB
Field hospitals are deployed in a wide range of scenarios including natural disasters, epidemic outbreaks, armed conflicts and refugee crises. Operation in these conditions requires adaptation to disaster medicine principles and operation in an austere environment and unfamiliar cultural milieu, whilst maintaining acceptable standards of care. For many of those involved it may be their first encounter. This book, which is the first to address the preparation and operation of field hospitals, brings together the experience of world leaders in the field. Coming from a wide variety of organizations and backgrounds, all have extensive experience in field hospital deployment in multiple scenarios. The text - containing both background information and practical guidelines - will serve all those involved in field hospital deployment, including policy makers and planners, physicians and nurses, paramedical professionals and logisticians. It will help them deliver optimal care to people around the globe in difficult times of need.
My nickname -
interes