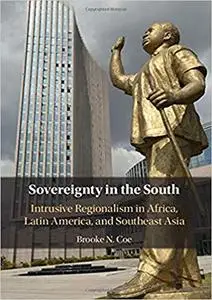 Brooke N. Coe, "Sovereignty in the South: Intrusive Regionalism in Africa, Latin America, and Southeast Asia"
English | ISBN: 1108496792 | 2019 | 238 pages | PDF | 1132 KB
As international organisations gain greater power to monitor and manage the domestic affairs of their member states, the relationship between state sovereignty and international intervention becomes increasingly fraught. This book examines international rule-making in the Global South, tracing how the status of state sovereignty has evolved since decolonization. Coe argues that regional organizations flout the former norm of non-interference, becoming involved in the domestic affairs of their member states in Africa, Latin America, and (to a much lesser extent) Southeast Asia. In the name of democracy, human rights, and security, regional organizations increasingly assume jurisdiction over once off-limits domestic matters: they monitor elections and human rights and they respond to intrastate crises with mediation, fact-finding and sanctions. Coe explores the effects of democratization and economic crisis on regional institutions to explain the uneven development of 'intrusive regionalism' across the postcolonial world.