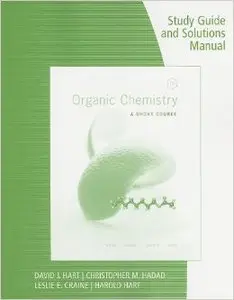 David J Hart and Christopher M Hadad, "Organic Chemistry Study Guide and Solutions Manual: A Short Course, 13th edition"
English | ISBN: 111142585X | 2011 | 412 pages | PDF | 5 MB
Revised with the assistance of author Christopher Hadad, Ohio State University, the Study Guide and Solutions Manual offers solutions to both in-text and end-of-chapter problems with an explanation of the answers. For each chapter, the guide provides a chapter summary, learning objectives, and a summary of synthetic methods and reaction mechanisms. Review problems on synthesis and 100 multiple-choice sample test questions offer students additional problem-solving practice.