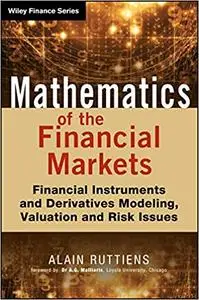 Alain Ruttiens, "Mathematics of the Financial Markets: Financial Instruments and Derivatives Modelling, Valuation and Risk Issues"
English | 2013 | ISBN: 1118513452 | 566 pages | EPUB | 8.6 MB
Mathematics of the Financial Markets
Financial Instruments and Derivatives Modeling, Valuation and Risk Issues
"Alain Ruttiens has the ability to turn extremely complex concepts and theories into very easy to understand notions. I wish I had read his book when I started my career!"
Marco Dion, Global Head of Equity Quant Strategy, J.P. Morgan
"The financial industry is built on a vast collection of financial securities that can be valued and risk profiled using a set of miscellaneous mathematical models. The comprehension of these models is fundamental to the modern portfolio and risk manager in order to achieve a deep understanding of the capabilities and limitations of these methods in the approximation of the market. In his book, Alain Ruttiens exposes these models for a wide range of financial instruments by using a detailed and user friendly approach backed up with real-life data examples. The result is an excellent entry-level and reference book that will help any student and current practitioner up their mathematical modeling skills in the increasingly demanding domain of asset and risk management."
Virgile Rostand, Consultant, Toronto ON
"Alain Ruttiens not only presents the reader with a synthesis between mathematics and practical market dealing, but, more importantly a synthesis of his thinking and of his life."
René Chopard, CEO, Centro di Studi Bancari Lugano, Vezia / Professor, Università dell'Insubria, Varese
"Alain Ruttiens has written a book on quantitative finance that covers a wide range of financial instruments, examples and models. Starting from first principles, the book should be accessible to anyone who is comfortable with trading strategies, numbers and formulas."
Dr Yuh-Dauh Lyuu, Professor of Finance & Professor of Computer Science & Information Engineering, National Taiwan University